Delicious food, good tea in Shizuoka city.
In addition, Shizuoka citizens familiar with tea, tea-loving life.
Put rice in this blessed Shizuoka city, good food, tea and eat boiled rice, "Shizuoka tea" of efforts began.

Shizuoka tea passion.
It aims to infiltrate as new delicacies of Shizuoka tea region of Shizuoka in Japan, with the topping mainstream now dared boiled tea to spread. Ochazuke "make tea", "Shizuoka tea" and had to offer in the country, named for the Shizuoka thoughts., I want as many people up "Shizuoka topping" wants to create. And thought how, "Shizuoka tea" in definition has only one "rice putting on tea".
Project participants wanted!
Shizuoka tea added to the menu just a recruit of dining and accommodation providers.
For more details, please contact us at the Shizuoka city industry policy Division.
Industrial Policy Division, Department of Shizuoka city and Bureau of Commerce and industry
〒424-8701 Asahi-cho, Shimizu-ku, Shizuoka-shi, 6-8-8-TEL 054-354-2313 / FAX 054-353-1022|E-Mail sangyouseisaku@city.Shizuoka.LG.jp
Shizuoka tea original model
A simple definition that "rice putting on tea" Shizuoka topping our image more specifically as restaurant floating on Lou, "co., Ltd. Eggplant" ' of cooperation, held a tasting. It is a prototype of the six ingredients such as wasabi and cherry shrimp local.
Floating Moon Tower as designed model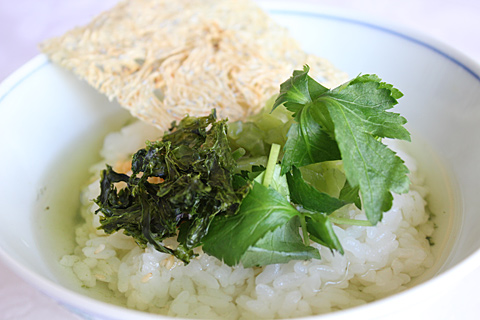 Wasabi chazuke
Green tea And sardine paper, Wasabi stem, hail, toasted sesame seeds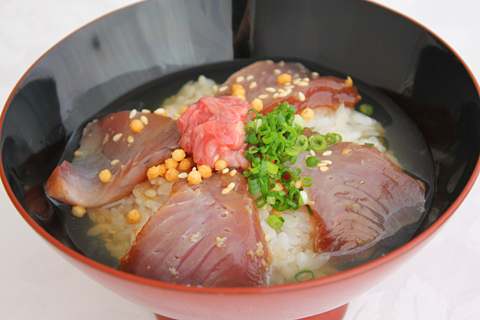 And the YAIZU bonito topping sauce
Roasted rice tea And bonito, bonito salted the grated ginger, hail, toasted sesame seeds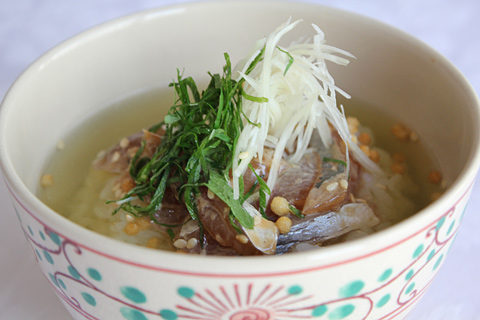 Shimizu Miho mackerel with green tea
Green tea / Horse mackerel 細引ki and Kuno leaves ginger chopped, chopped shiso leaf, hail, toasted sesame seeds
Eggplant-like design model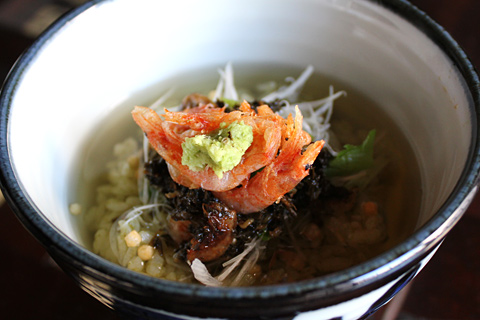 Motoyama tea tea that
Green tea soup / Shrimp crepe, crisp plum, tea leaves boiled and wasabi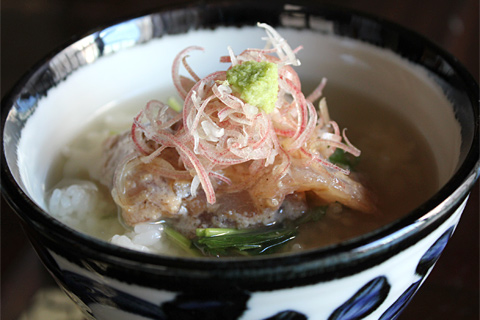 Red Snapper with green tea
Brown rice tea soup And red snapper, Sesame, mitsuba, myoga, Wasabi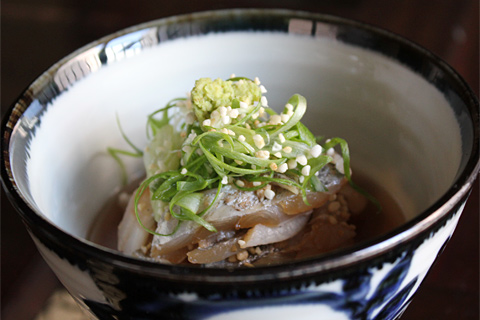 Scabbard fish seared chilled tea
Roasted green tea And green onions, sesame seeds, dipping soup, miso, Wasabi
Shizuoka tea Association
Heisei 27 1st Shizuoka tea Association(7/28/2015)
1. Discuss the definition of Shizuka tea pickle ⇒ Decided to make only tea
2. Discussion on future development ⇒ Confirmed that the second tasting meeting and the council will be held on September 17th
Heisei 27 second Shizuoka tea Association(9/17/2015)
1. Policy discussion of Shizuka tea pickle ⇒ Confirmed to promote promotion al-awareness activities in hotels and restaurants
2. Tasting party of the original model of Shizuka tea pickled

Heisei 28 1st Shizuoka tea Association(7/1/2016)
1. Reflections on tasting parties
Discuss this year's development ⇒ Many opinions such as tasting parties and map creation
Heisei 28 second Shizuoka tea Association(9/6/2016)
1. Discussion on this year's development ⇒ Confirmation that we will hold a tea-pickled tasting party for citizens
2. Discussion on pr methods and future development of Shizuka tea
28 year of Heisei 3rd Shizuoka tea Association(1/10/2017)
Discuss the contents of the tea-soaked tasting party for citizens ⇒ Opinions on how to make it an effective EVENT.
Shizuoka tea tasting PR(2/11/2017)
Between the Takasago venue floating Moon building, 3rd floor
Participants number of citizens (public) 91, stakeholders (such as businesses) 65
And gathered seven stores, such as food and beverage outlets in the city, in each store favorite "Shizuoka tea" offers.
-Tasting, as well as the Panel's Memorial for the shooting and airing of the PR video established a special participant as keepsake Shizuoka Tea Cup gift
⇒ receive media coverage on the day, the venue was a great success. Many people "Shizuoka tea" was able to promote.

Heisei 28 4th Shizuoka tea Association(3/24/2017)
1. Reflection of tasting party ⇒ Verification of the event based on the results of the participation questionnaire
2. Discussions on next year's initiatives ⇒ Opinions on how to continue to conduct effective PR, including tasting sessions.