Also I loved history and authentic taste Tokugawa Ieyasu.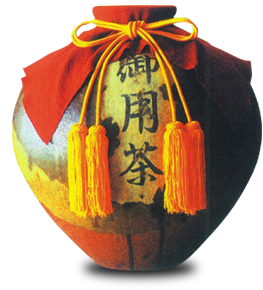 Having the oldest tea plantation area of Shizuoka Prefecture Shizuoka Motoyama Brown says the tea made warashina River abekawa traversing Shizuoka-Shi and its tributaries, watershed area.
Mesophyll is soft compared to plain tea is cultivated on the slopes of the mountain of fog tea, characterized by vivid green. Leaf shape is pungent and the feel of an elegant taste. Filled with a refreshing flavor actually taste very nice, clear and subtle.
Meiji era, from the port of Shimizu for overseas tea exports are thriving and in each region were increases the cultivation of tea. Named by tea farmers think was named "Motoyama tea" tea of this area is still known as Abe tea tea of Abe want to distinguish other regions and Tsukiji Kotaro. It may be Kotaro loves the local tea, there are 'real' and 'home' hot attention that was trapped.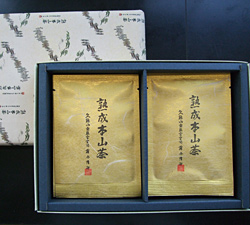 Cooked costs camellia
1st O-CHA frontier contest Gold Award
It is a gem and aged until the fall of igawa Dainichi pass more than 1000 m above sea level, a new tea of Shizuoka Motoyama tea produced in the mountainous region of Shizuoka tea birthplace of the Abe River watershed and its tributaries in warashina River basin tea warehouse. Enjoy the taste of aged Motoyama tea known as Tokugawa Ieyasu also loved.
The shape of the tea leaves, golden light blue, such as a needle.
Shimizu region also long history of tea, spread to the Zen master Eisai in the Kamakura period (Eisai Yoshiharu) is Myoe holy priest who handed the tea seeds brought back from China (strange example Shonin) nationwide, the one place the "Suruga of Kiyomi "has been (currently near Shimizu-ku Okitsu) and. Rapid production expansion from 1906 Shimizu and tea is to be exported to foreign direct and became a figure of the current production area.
Shimizu tea is tea in the Kamakura period as the "SURUGA Kiyomi", one of the five regions counted, "shaped like a needle tea leaves" and "Golden" is characterized by the largest and.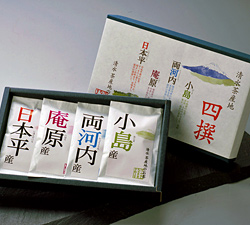 Shimizu tea producing area four Sen
3rd O-CHA frontier contest Gold Award
In order to get to know broadly the tea producing area Shimizu, four regions on behalf of Shimizu of tea producing area (Nihondaira, Ihara, both Kawachi, Kojima) products that package tea. Each by each locality is characterized, it is greedy gem where you can enjoy four kinds of differences.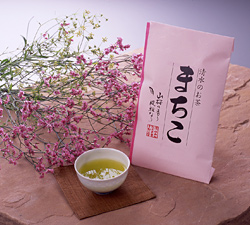 Machiko
World green tea Contest 2009 highest Gold Award
3rd O-CHA frontier Contest Silver Award
Topic of tea with a unique personality that natural flavor of the Oba is in. Episode that much of the strength because the name did not have this tea of ​​personality, "Machiko-san" of The poor I thought tea knob gave his name also. It is proud of tea only to Shimizu.